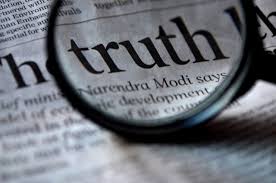 Do you really want to know the truth?
As hard as it might be to hear, the truth is that you are a dirty rotten sinner headed for Hell in need of a Saviour.  I'm sure that sometime in your life you have asked yourself the questions, "Who am I?" and "Where am I going when I die?"  Well, if you are still interested in knowing the truth, then read on and find the answer to those questions.
Who are you? 
Are you a good person?  Have you ever done anything wrong?  The Bible says in Ecclesiastes 7: 20 "For there is not a just man upon earth, that doeth good, and sinneth not."  This means that every person on the earth is a sinner.  A sinner is anyone who does something against God, such as exalting man above God, thinking you don't need God, having evil imaginations, cursing God, lying, stealing, and many other things. 
Romans 3:10 says, "As it is written, There is none righteous, no, not one:" Every single person on this earth has done something against God.  Now you know that you are a sinner who sins against God, but you don't know the whole truth yet so keep reading!
Where are you going when you die?
The Bible say in Romans 6:23 "For the wages of sin is death; but the gift of God is eternal life through Jesus Christ our Lord."  The price of sin is death.  If the price for your sin isn't paid, then you will die and go to Hell.  Hell is a place of separation from God in a place of everlasting punishment.  "Then how," you ask, "do I pay the price for my sin?"  The answer is YOU CANNOT!  There is nothing you can do on your own to stay out of Hell.  But, the good news is that God provided a way for you to have a relationship with Him. 
One day God's virgin-born Son, Jesus, came down to earth as a man.  There was something different about Jesus; He was perfect.  He never sinned.  Because he never sinned, He was the only one who could make the payment for sin.  His death was required.  Jesus allowed man to crucify Him, and by that He took ALL the sins of the world on Himself. 
Jesus didn't stop there, if He did, He would be just like Buddha, Lao zi, and Confucius.  On the third day after they buried Jesus, He rose again from the dead!  Because Jesus did this, there is a way for man to have a relationship with God and spend eternity with God in heaven, "but the gift of God is eternal life through Jesus Christ our Lord."  Do you now know where you are going when you die?  Have you accepted Jesus and the price He paid for you when He died and rose again from the dead?  If you haven't already accepted Him then keep reading to find out how to accept Him.
Do you want to have a relationship with God?
Romans 10:9-10 "That if thou shalt confess with thy mouth the Lord Jesus, and shalt believe in thine heart that God hath raised him from the dead, thou shalt be saved.  For with the heart man believeth unto righteousness; and with the mouth confession is made unto salvation."  Jesus has already paid the price for your sins.  The only thing that you need to do is agree with God that you are a sinner in need of a Saviour, and believe that God raised His Son, the Lord Jesus, from the dead. 
Your questions have been answered, and you now know the truth –that you are a dirty rotten sinner headed for Hell in desperate need of a Saviour.  Heaven or Hell – the choice is yours! If you now want to accept Jesus Christ as the payment for your sins, then pray this prayer to God:
"God, I want to have a relationship with You. I agree with You that I am a sinner in need of a Saviour. I believe that You raised up Your Son, the Lord Jesus Christ, from the dead, so that through His death, burial and resurrection, I can have a relationship with You. Will You please forgive me for the sins I have committed against You? Thank You for forgiving me and allowing me to have a relationship with You. Thank You for my Saviour, Jesus Christ. In Jesus' Name I pray these things, Amen."